August 12-15, Seaport Hotel & World Trade Center, Boston, Massachusetts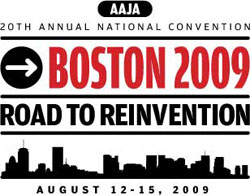 Welcome back, AAJA! A dozen years have passed since Boston last played host to our national convention, but it might as well have been a lifetime ago. The city, journalism, and AAJA have evolved so much since then.
You will arrive in America's most historic city which, like the media industry, is in the midst of reinventing itself. Boston today is a city in which minorities are the majority – and Asian Americans are the fastest-growing racial group. It is a city that now boasts its first Asian American city councilor in a state that last cycle elected its first African American governor. Women helm two of our (and the world's) most renowned universities: Harvard and MIT.
AAJA and the media industry right now face astounding new challenges. At AAJA's Boston 2009 convention, we will embrace these challenges.
Reflecting an industry that is dramatically evolving right before our eyes, this will be an AAJA convention unlike any you've seen before.
This is a convention that will face, head-on, the uncertainties of today's media landscape. It will give AAJA members the networking opportunities and the tools you need to succeed in a modern newsroom — or to reinvent your career outside of one.
If there was ever a convention you can't afford to miss, it's Boston '09.
Still, some things never change. Beantown, as ever, is a picturesque metropolis teeming with historical landmarks, stunning public parks, world renowned museums, a grand river dotted with sailboats and perfect skylines, a bustling Atlantic harbor, acclaimed restaurants, and a hopping nightlife that is especially vibrant in summer. It is a city that is crazy about sports, politics, science, medicine, education, and technology — and our convention will give you a chance to see why.
Our annual gathering of journalists will be packed with hands-on multimedia training, practical skills you can use right now to redefine your career, and opportunities for in-depth explorations of the topics and issues that matter most to you today.
And, as always, AAJA's annual convention will be the place to expand your network of colleagues, friends, and "family," and remind us all who we are, why we got into this business, and how we can make it better.
See you in Boston!
Register online, reserve your hotel room and check out the convention schedule.
Early pre-registration rates on or before June 19, 2009 are $225 for current AAJA members, $350 for non-members, $100 for student members and $165 for student non-members.
And, word just came in that AAJA's nightly guest room rate at the Seaport Hotel is now only $159/night — but only until July 9! (This is a  room rate for a downtown Boston hotel during peak summer tourist season.)
All Seaport guest rooms are newly renovated and feature top-of-the-line amenities, including:
– FREE WIRELESS Internet access in all sleeping rooms
– Bose Wave Radios compatible with most mp3 players & iPods
– Complimentary admission to award-winning health club
– A property-wide no tipping policy
The Seaport Hotel is in a terrific waterfront location, a short taxi or Silver Line T ride from Logan International Airport, and a very short taxi ride or walk from Boston's Amtrak and Red Line T stop, South Station.
The Seaport offers easy access to Boston's Chinatown, the famous North End, Fanueil Hall/Quincy Market, Newbury Street/Copley Square, Beacon Hill, the Public Garden, (the real) Filene's Basement, and, of course, Fenway Park!
Call 800.262.0680 to make your reservation before rooms sell out!
(Room reservations already made under the AAJA room block will automatically reset to the new nightly room rate.)