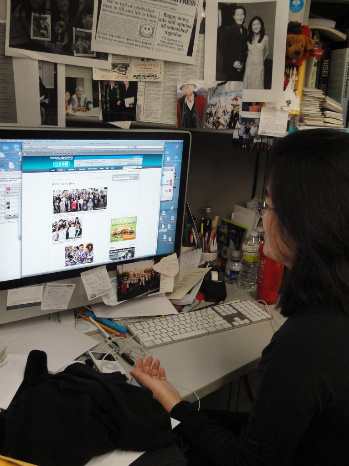 BY SAMANTHA MASUNAGA/ 2010-2011 Peter Imamura Memorial Scholarship recipient, UCLA junior
Walk into the Little Tokyo office of the Rafu Shimpo and it is clear that this community newspaper is
unlike many other news outlets.
For nearly 110 years, the Rafu has maintained a presence in the Japanese-American community, covering everything from the internment redress movement to honorary college degrees for internees during WWII. But the venerable Rafu is suffering, just like other newspapers, in establishing a news distribution model that will attract young readers outside of its elderly audience, embracing industry trends like multi-media  made difficult on a short-staffed team.
The Rafu staff knows, like other newspaper executives, that establishing a social media account won't beckon waves of young adults and fix an industry-wide downturn.
Eyes on the Sansei and Yonsei generation
"For any Japanese-American publication, it's about how we can get beyond the Nisei (second-generation Japanese-Americans) and get to the Sansei (third-generation) and Yonsei (fourth-generation)," said Gwen Muranaka, English editor.
The Rafu newsroom, Los Angeles' only daily Japanese-English newspaper, is a collection of small cubicles. Photos of significant cultural events and figures taken by longtime Rafu photo editor Mario Reyes adorn the walls. Talk in the office centers around Asian-American politicians, upcoming pilgrimages to internment camps and young Japanese-American athletes.
"A lot of what goes into the Rafu Shimpo would simply not make it in mainstream media," said Michael Hirano-Culross, sports editor and arts and entertainment editor at the Rafu.
At the moment, the four-person editorial staff is working to develop an online subscription system where readers can view color PDFs of the daily paper on the Rafu website. The newspaper has also established accounts on Facebook and Twitter to reach a younger audience, not included in the 11,000 subscribers of the print paper.
This age disparity is great, as the average age of a print subscriber is 55, according to preliminary survey results of Rafu readers.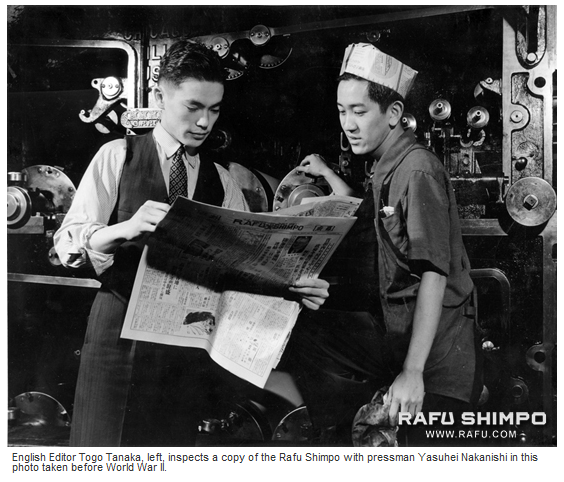 There are communitywide demographic changes underway withering away at the Rafu's long-time support base. The migration of Japanese-Americans away from Little Tokyo and the high rates of marriage with other ethnicities have diluted the community's connection to their heritage, leading to decreased support for entities like the Japanese-American National Museum, Muranaka said.
Sports coverage a Rafu 'hit'
In spite of these changes, the glue that has encouraged ties between Japanese-Americans is sports.
Each year, Japanese-American sports leagues in basketball, volleyball and baseball draw hundreds of Asian athletes and have led to high school and even college careers for some of its younger players.
After the Rafu began posting online scores from these various leagues, the stories got thousands of hits. As a result, the staff is planning to run game results as often as possible and has encouraged league scorekeepers and parents to send score sheets to the newspaper.
"We need to play to our strengths," said publisher Mickey Komai, whose family has managed the Rafu for three generations
Nevertheless, the idea of increased online content presents both opportunities and challenges.
The Rafu's online presence has led to greater community feedback through comments on the website and Facebook, said Cari Yasuno, graphic designer who updates the website and social media.
Short on News hands
But while the web allows for more immediate updates, increased space for photos and eliminates the unreliability of the U.S. Postal Service, which delivers the newspaper daily, it is also a source of more work for a small editorial team.
"There's a lot of things we want to do, but can't," Hirano-Culross said. "It's about manpower."
He mentioned the videos of community events that he and former sports editor Jordan Ikeda used to shoot and post on the website. While these multimedia components were extremely popular, the editing and uploading process took considerable time to complete.
While stories are regularly uploaded to the website, there are few editors free to focus on more frequent updates.
Muranaka attributed the difficult transition to the largely print mentality of the newspaper staff.
But in spite of the complications of online journalism, the newspaper seems to have a solid base of community support, and boasts a much larger readership than the number of print subscribers, Komai said.
"When I cover events, people always ask, "How are you guys doing?," Reyes said. "I always tell them, 'We need your support.'"
Muranaka echoed this statement.
"People really want this newspaper to succeed," she said. "There's a loyal, loyal audience."
FOR MORE MEMBERSHIP COVERAGE:
PATCHING UP THE JOURNALISM INDUSTRY: Natasha Zouves (Sam Chu Lin scholarship winner/ USC junior) interviews AAJA-LA members Patrick Lee (regional editor, LA) and Hazel Lodevico-To'o (glendora.patch.com) about working for AOL-owned Patch.
'GRADING THE TEACHERS': 100 interviews later…: Sonali Kohli (AAJA-LA scholarship winnner/ UCLA sophomore) interviews education reporter Jason Song about preparing the 2010 LA Times series on value-added analysis.
LIFEYO: Blogging made Simple(r): Steffi Lau (scholarship recipient/ USC senior) interviews Lifeyo CEO Mike Kai, who founded a website hosting platform that aims to simplify the website-building experience with drag-and-drop features, allowing users to customize content and create a site within minutes.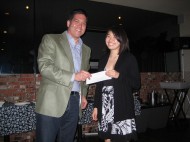 SAMANTHA MASUNAGA is a junior at UCLA majoring in English.  She is the 2010-2011 Peter Imamura Memorial Scholarship recipient.

"Sam's performance was truly exceptional, indeed at the very top of the class." — Jonathan F.S. Post, professor of English, head of UCLA's Summer Overseas Shakespeare Program.

"Tenacious, thorough and a highly skilled writer." — Gwen Muranaka, English editor in chief/ Rafu Shimpo
Masunaga has a GPA of 3.859.
She's the Science and Health Editor at The Daily Bruin.
She has interned at The Rafu Shimpo.
In Masunaga's scholarship essay, she talked about the impact of working at the Rafu on her feelings about ethnicity, saying: "I have learned that cultural knowledge is more than just eating traditional foods and writing kanji."