5/20/2012 UPDATE by Joz Wang: AAJA-LA is pleased to announce the evolution of the Banana Conference… V3con, the V3 Digital Media Conference! Please visit V3con.com for the latest conference information!
The bloggers came out from San Francisco, New York, Canada – one blogger postponing a return trip to Japan from Mexico to stopover at the CBS parking lot— to gather at Banana 2 on February 26, the second gathering of Asian American and Pacific Islander bloggers.
In a diverse and eclectic display of passion, bloggers—some a single person in front of a computers, others like Muslim Media Watch includes 16 contributors worldwide—spoke about how they became the media coverage they did not see on mainstream media.
Many guest speakers were flown in from all parts of the United States by corporate sponsor, a showcase of the growing clout bloggers have come to now carry in a changing media landscape.
Joz Wang, secretary of AAJA-LA, organized a breakout session (Blogging 101) on behalf of AAJA-LA.  Co-presenter Michelle Woo, a former AAJA-LA Chapter board member, was a panelist speaker.
Nelson Wong of www.aarisings.com, a blog that focuses on Asian Americans in the entertainment industry, is recognized for his 22 years of blogging.
Anh Ton, a UC Berkeley student and managing editor of One Vietnam Network, a project that espouses non-profit work and last year received funding from the Ford Foundation, took a one-day break from her studies and posting to listen to a community that has largely been fragmented up til now.  Vietnam Talking Points, One Vietnam Network's blog, has become a hub for Vietanmese youth, offering commentary and news links to hard news that can inspire reflection and greater cultural understanding.
"The old media, real journalists, can use that as a lede to find news," Ton said.  "They can use it as a tool to develop their stories.  Develop their research and write very long and thorough researched articles."
Uyeh Nguyen, the co-founder of One Vietnam Network, said her blog fulfills a need in the Vietnamese community that had been absent.  She said to often the voice of the older generation dominates the media.
"A majority (of Vietnamese youth) want to look past a lot of the history—not forget it—but look past a lot of the drama and the issues that may be counterproductive to our communities progress," Nguyen said.  "To look forward, to help each other build that partnership in our community, that link—that we can grow, succeed together in whatever community we live in now.  The silent majority never had a voice before until One Vietnam came into this place."
One Vietnam Network is an exception, but most of the bloggers said they have not monetized their sites.
The event co-chairs were Lac Su and Craig Tomiyoshi or IW Groups.  The planning committee included, Gil Asakawa, Yulree Chun, Edward Hong, Keith Kamisugi, Jason Ng, Steve Nguyen, Arthur Vong, and Joz Wang.
Read more about the bloggers below.  See real-time events by clicking on the link.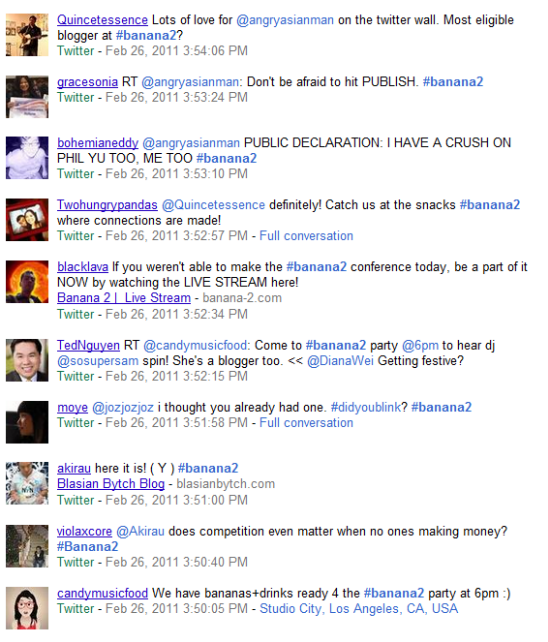 PHIL YU — ANGRYASIANMAN.COM // ASIAN AMERICAN NEWS, POLITICS, AND POP CULTURE
One of the largest and most popular blogs on Asian American news, politics, and pop culture belongs to Phil Yu, 32.  Last year, the "godfather" of bloggers received the Banana award, a recognition of blogging excellence.  His blog receives tens of thousands of hits on a daily basis.  His work continues a decade after he first started the blog.
UYEH NGUYEN, ANH TON — ONE VIETNAM NETWORK, VIETNAM TALKING POINTS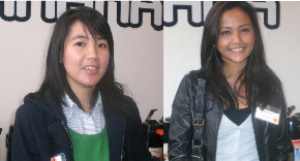 Through her work on One Vietnam Network and its corresponding blog, Vietnam Talking Point, Uyeh Nguyen, co-founder, said she's learned a valuable lesson about young people.
"A majority (of Vietnamese youth) want to look past a lot of the history—not forget it—but look past a lot of the drama and the issues that may be counterproductive to our communities progress," Nguyen said.
One Vietnam Network goes beyond commentary, allowing philanthropic organizations a place to convene and spread good.  Anh Ton, managing editor at One Vietnam Network, a 21-year-old college student at UC Berkeley, highlighted a commentary piece on the first Vietnamese cartoon character – "We don't know if he's a caricature of Vietnamese, a stereotype of Vietnamese, or if he's really standing for something" – and a connection between Cai Luong ("traditional, esoteric Vietanmese music") with indie rock as two interesting pieces of recent work.
Both posts mixed Vietnamese history with pop culture to engage young readers, eliciting dozens of comments.
"You can read a typical Vietnamese newspaper and get the facts, but you might not be able to digest that in a way that is relevant to you," said Ton, who flew down from Berkeley to attend the one-day event.
What is Nguyen most excited about moving forward with this project?
"To be able to bring them together and work together as a team and create this new voice, this (voice that reflects the) new generation of Vietnamese Americans," Nguyen said.
MARVIN GAPULTOS — BURNT LUMPIA // FILIPINO CUISINE IN THE LA AREA
Marvin Gapultos was at one time a software marketing writer. He now is the owner of a food truck, thanks to a following built via his blog.  When he went off to the Philippines a few years ago, he was surprised when restaurant owners who caught on to this work invited him to dinner
FATEMEH FAKHRAIE — MUSLIM MEDIA WATCH // MUSLIM WOMEN'S RIGHTS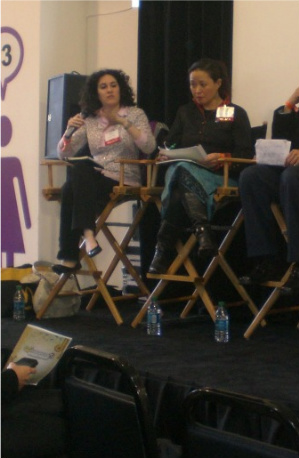 "I want more coverage," said Fatemeh Fakhraie, editor in chief of the blog Muslim Media Watch.  "I have 16 writers, I want more.  I want more parts of the world covered.  Sexism, Islamophobia… I want to expand, I want to be able to leverage this so I can make this a living for myself and my writers because right now all of this is volunteer.
At one time, Muslim Media Watch was a place where Fakhraie would go to vent about what she describes as the three stereotypes of Muslim women: the "hypersexual Muslim woman"; the "super sad oppressed"; and the "dangerous terrorist Muslim woman."
Since first coming online in 2008, Muslim Media Watch has become a network of international voices.  Fakhraie has 16 reporters she pulled together using Facebook.  When a Muslim female was brutally battered in a case of domestic violence, she relied on the connections she had developed through her blog to coordinate with mosques nationwide to focus the Friday sermon on domestic violence.
"Through my network, I was able to reach mosques across the country," Fakhraie said.  "We had all these mosques across the country do domestic violence sermons.  They talked about it, raised awareness about it."
It was an early success for the blog, a show of influence she said she was "humbled" by and proud of.  Fakhraie, who works in the admissions office at the English language department at Oregon State University, was holding her breathe when she lost contact with a reporter in Egypt recently.
Through her blog, she wants to hold the media accountable on how they portray Muslim woman.
And, so, what is the Muslim woman experience?
"It's like the Asian American performance," she said.  "You can't sum it up in one things.  Everyone has their own thing.  I would feel awful trying to encapsulate it.  So much of it is a American experience, it's a Muslim experience.  You have intersecting ethnicity influences.  It differs from woman to woman, person to person."
ERICA JOHNSON — HAPAVOICE.COM (a multi-racial upbringing)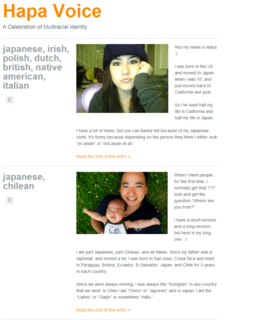 The inspiration behind Hapa Voice came to Erica Johnson, 22, while taking an AP test in high school.
Why couldn't she check more than one box for race?
Born from a father who is Irish, German and French, her mother Filipino, Johnson was upset.  It was this moment that helped stir the idea behind Hapa Voice.  Johnson was entry one, she talked her friends into writing an entry, and then someone on the internet took notice of her blog.
"(The first entry) was very similar structurally to a lot of the other entries that come in," said Johnson, who recently graduated from UC Santa Barbara and now works as an editorial producer for WordPress.  "She talked about growing up and what that experience was like.  How she identifies now.  How she is proud to be Hapa.  Usually, that's the organization how most entries follow."
The entries Johnson receives are not only from people in the United States.  On her blog, she has an international community of contributors who share.  People of all races – Chinese, German, Irish AND Ukranian—use the blog to share their thoughts.
"What is really illuminating for me, when people outside the United States contribute, I love getting the international perspective," said Johnson, who was flown in from New York to speak at Banana 2. "Someone who is mixed and grew up in Singapore.  I love how their difference is different and similar from someone growing up in California versus wherever else.  There's a lot coming from outside the United States forming (their identity)."
The two milestone marks for Hapa Voice have been that first contributor and her invitation to Banana 2, Johnson said.  She looks forward to others.
"It's virtually invisible in mainstream society," said Johnson about bi-racial issues.  We have discussion about various Asian communities, but bi-racial and multi-racial Asian people aren't as visible."