By Phil Ige, 2011 AAJA LA Board Member/KTLA 5 Photojournalist
AAJA-LA Chapter member and KTLA photojournalist Brian Choo has been put in charge of the AAJA National Convention student-operated project AAJA Voices, a program that provides hands-on news training to college students.
Choo, who works on both special projects and general assignment for KTLA 5 in Los Angeles, will give out sound advice on his personal philosophy on the art of storytelling.
"I tell college students when you're putting together a story, make sure you have a beginning, middle and end." Choo also adds, "You really don't need 20 different interviews to tell a story. Focus on one person, follow them around, and see what develops from there."
This is Choo's second year being involved with Voices. The Emmy-award winning photojournalist, who has worked in other TV markets like Tuscon, Las Vegas, and San Diego, saw some excellent potential with last year's journalism students.
"I know of one student from the group who got a job in the Monterrey/Salinas market," he said.
As for the future of AAJA Voices, Choo says he would like to take the training up a notch by having the students do a live broadcast. "We've never done that before", said Choo, who admits the project will be a true test of the student's nerves. "Yeah, put some fear into them. See how they react to a live broadcast. That's what I'm thinking."
As of now, about twenty students will be involved with this year's Voices Project for the 22nd Annual AAJA Convention in Detroit, MI. With AAJA Voices, college students from all around the country form a newsroom to provide convention attendees news and information about the convention.
Their work will be shown on the AAJA Voices website.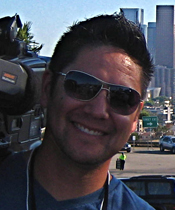 Phil Ige is a videographer at KTLA Channel 5 in Los Angeles. His favorite mantra about his job:"Without us, it's radio." He takes a lot of pride in being a TV Photojournalist. He got his first experience covering news when he was 19 years old: While covering a story for his college TV news station, he came across a breaking news story involving bank robbers, cops with guns drawn, and the suspect eventually giving up. He got everything on tape, and after that experience, he hasn't looked back. Phil has worked at ABC (KERO) in Bakersfield, at the ABC affiliate in Santa Barbara, Norfolk, VA, at the NBC and WB affiliates in San Diego, and now he's back home in L.A at KTLA