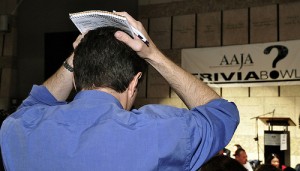 Trivia Bowl is the signature, team trivia competition fundraiser creation of the Asian American Journalists Association, Los Angeles (AAJA-LA) Chapter.
Starting in 1994, proceeds from the event — held every year but two since then — support the chapter's scholarship, internship and professional development programs.
Initially, this unique, increasingly ultra-competitive, team quiz-style game was created and conceptualized as a low-budget, low-tech, minimally planned local chapter fundraiser. What started as a modest whimsical effort has matured into a popular trademark community "fun-raising" experience. Media groups, corporate sponsors and community partners attend to support AAJA-LA and to continue their "cross-town" rivalries in this unparalleled arena.
The inaugural competition took place at the Japanese American Cultural and Community Center (located in Little Tokyo, Los Angeles). It was the brainchild of Dickson Louie, then AAJA-LA Treasurer. Ten teams gathered for this unconventional fundraising experience, and chapter leaders were thrilled when the event brought in $2,200.
Over the years, Trivia Bowl became an annual event under the leadership of Richard Fruto, who was the chapter president in 1994 and Louie's successor as treasurer, and Yet Lock, executive vice president of City News Service and one of the founders of East West Players. Throughout the late 1990s, the competition continued in the community meeting room at the JACCC, drawing as few as five teams in Trivia Bowl III but 8-11 teams most years. Back then, the emcee was Mario Machado, and the scoreboard was a flip chalkboard. One year, the competition was held during Asian Pacific American Heritage Month in a ballroom at the downtown Westin Bonaventure Hotel and Suites.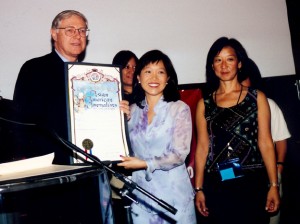 The event, game and fun-raising effort has evolved since its humble beginnings at the JACCC. In 2001, Trivia Bowl expanded tremendously in under the direction of Denise L. Poon, then chapter President to mark AAJA's 20th anniversary. In honor of the special occasion, there was added emphasis on increased community participation and sponsorship. The event more than tripled, when 43 teams competed in Trivia Bowl VII, hosted by ABC7 in their Glendale Broadcast Center.
That year, TBVII took place a little over two weeks after 9/11. Concerns about general safety, especially with a room of high profile people in a broadcast facility, resulted in increased security precautions for the nearly 500 guests. The event was successful and great focal point for the community to gather to note AAJA's second decade.
Subsequent to the previous year's extensive effort, Trivia Bowl moved to the beautiful Japanese American National Museum in 2002, where it has been held over five times. Approximately 22 teams have capacity-filled the marble George & Sakaye Aratani Central Hall.
The "modern" games have evolved in many other ways. The event includes a raffle and live auction, which traditionally features donated Cathay Pacific and Southwest round-trip tickets, Staples Center luxury box tickets to a Lakers game and other treasures.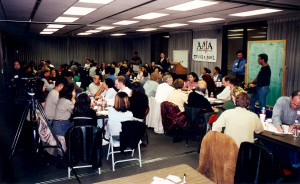 Gone are the chalk and blackboard used for scorekeeping and team placement. The scorekeepers now use laptops, a spreadsheet program to add and tabulate the scores, and PowerPoint to display the scores on a large projection screen.
"Real" Bench Officials—Judges and Commissioners from the Los Angeles and Orange County superior courts, as well as U.S. District Court Judge Ronald Lew, review, scrutinize and score the team answer sheets.
A perpetual Rice Cup trophy is now awarded to the champion and one "tradition" that continues is awarding the team with the lowest score a case of Ramen instant noodles.
Gone are the days of serving snacks. The event is now catered with complimentary food and beverage donations, first by the Panda Chinese fast-food chain, then by Wahoo's Fish Taco, which has donated, hosted and served the event food and beverages over five times.
ABC7 news anchor David Ono has taken over the duties from Machado. Ono's trademark routine includes his natural quick wit and humor and our 2011, 30th Anniversary celebration marks the tenth time he will encourage the event's competitive tone.
Traditionally teams have had 10-12 players. Members of each team collectively fill out an answer sheet during different trivia rounds for a possible 100 points, which no team has achieved.
The competition is frenzied. Participants whisper answers excitedly when there are questions for which they know the answers. Participants groan when the emcee reads a question on arcane matter, or something they should know.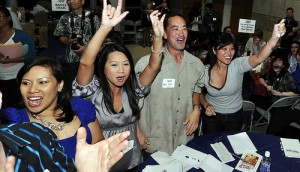 The whispered answers and discussions at team tables while a round is in progress are replaced with roars of acclamation or moans of frustration when the emcee of reads the right answers after the answer sheets are collected and scored. Months after the competition, participants will sometimes still hash out what happened.
Over the two decades of Trivia Bowl history, stories, some apocryphal, have developed about the competitive nature of the event.
Did someone in the "ancient" games really use a cell phone to call their work research library for an answer? Did one team actually sabotage the complimentary pens from other tables so the competing team players would not have anything to write with and fill their answer sheets? How often has a team had an answer mouthed from a sympathetic spectator? How often has a team pretended to shout out loud the wrong answer in order to mislead the competition?
The rules have also evolved to prevent any team from having an unfair advantage over others. Thus, the ban on any type of communication between team tables and spectators, the use of any PDAs, cell phones, online or satellite access during a round, and any sort of unapproved printed materials at team tables. Game monitors have become strict to the point that teams cannot bring their own scratch paper and must use only those approved by the Trivia Bowl Organizing Committee.
Indeed, officials scrutinize anything that can give a team an unfair advantage in a competition that is often decided by 2-3 points.
Through four generations of Quiz Masters (question developers), one question has recurred year after year since Trivia Bowl I. Still, return participants forget to brush up on the correct answer.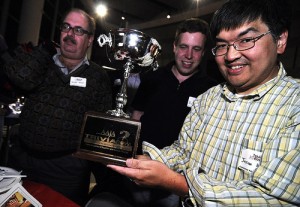 Every year, teams are seduced by the glory of year-long championship bragging rights and the honor of having their name engraved on the Rice Cup. City News Service won Trivia Bowl I and Trivia Bowl V, and Daily News won in consecutive years–Trivia Bowl II and III. NBC4 in 2004 became the first and only broadcast team to win Trivia Bowl X.
To the chagrin of all journalists, in the "modern games," teams primarily consisting of attorneys and said to be stacked with Quiz Bowl competitors—the Japanese American Bar Association team, which has prevailed three times, along with the Asian Pacific American Legal Centerand Immigration Law Offices of Fong & Chun, both two-time champions- have become the teams to beat.
Always a strong supporter of the event, The Los Angeles Times has become the heartbreak kids of Trivia Bowl. The Times has competed in all but one Trivia Bowl and has had a team finish in the Top 5 over 10 times. On the other hand, its local print competitor, The Orange County Register prevailed in Trivia Bowl IX.
For Trivia Bowl XVII, who will earn the respect and accolades of all?
As the journalism clichés go…"Stay tuned and read the fine print." Game on!
RELATED POSTS: