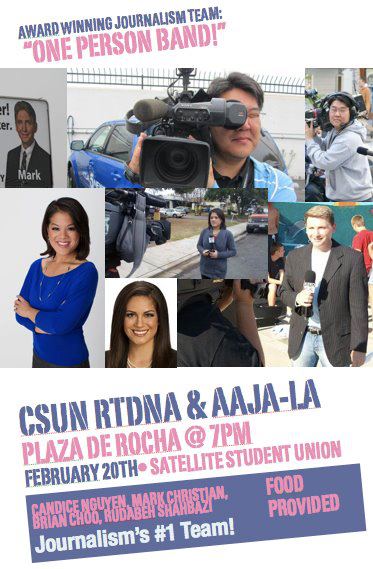 The journalism industry has shifted.
AAJA wants you to stay ahead!
Join AAJA-LA along with CSUN RTDNA on February 20th at 7pm at California State University, Northridge for our first "One-Person-Band" panel. This is event is open to students as well as working journalists and mid-career professionals.
Learn the tips and tricks about what it takes to be a true multimedia journalist of today, from some of the top, award-winning MMJ's in the field:
– Candice Nguyen from San Diego 6 XETV (MMJ)
– Mark Christian from Bakersfield KERO (MMJ)
– Brian Choo from KTLA (Videographer/Editor)
Pick their brains on how to stay on top of the latest social media tools, how to shoot compelling video, how to shoot interesting standups, how to write, edit, produce, report all by yourself and how to do it all under a DEADLINE!
These MMJ's do it all and all on a daily basis.
Learn it all, do it all and be ahead of the curve.
DATE & TIME: Monday, Feb. 20th at 7pm
LOCATION: Plaza De Rocha (2nd Floor) of the Satellite Student Union near the Dorms
PARKING: G9 Parking Structure off Zelzah Street
FOOD WILL BE PROVIDED.