BY ALEXA PARMISANO, UCLA sophomore/ FOX11 Fall 2011 intern
Everywhere Frank Buckley looked he saw acres and acres of debris and flattened land.
The KTLA anchor was sitting in a truck on his way to Sendai, ripped to rubble by earthquake and tsunami, days after a 9.0 earthquake had hit the region. Strewn across the ground outside his vehicle were children toys and clothes. Buckley, and a KTLA team that included his producer and photographer, was on his way to report on an international crisis.
"As a person, you see toys on the ground, realize they belong to children, and think to yourself – are they OK?" Buckley said in a phone interview.
He would see three dead bodies in the span of three hours, a few of the more than 22,000 that would be reported dead.
"It wasn't just video on a feed (but) a real community where real families that have been torn apart," Buckley said.
Days earlier, minutes after the earthquake struck, Buckley was awoken from his bed on March 10 at 1 a.m. by a call from his executive producer. Buckley was told he'd be on air in three short hours to report on the Japan quake.
Buckley immediately began putting out calls to connect with contacts stationed in Japan. Buckley is no stranger to the region. Buckley's mother is Japanese. He is a member of the Japanese American Leadership Delegation program, and he had the president of the delegation on the air for the telecast. The day after the earthquake he was on a plane to Tokyo.
Buckley's past included trips to Japan as a boy and several more as he grew older, an experience that helped him in his reporting, his producer Toni Molle said.
"The surprising thing about Frank is that he told me he was Japanese, but I didn't know (how extensively) he spoke the language," Molle said. So when the team landed in customs without the necessary visas or papers, Buckley was able to facilitate the issue using his Japanese.
Going off to report on a crisis situation doesn't offer a lot of time for preparation.
Buckley's team didn't have much equipment on certain spots – an iPHone 4 and portable satellite. His media team did not have proper credentials to get into Sendia, which meant the team had hit a roadblock. The team would get some assistance from another network – CNN asked KTLA to give one of their producers a ride to the region. The team travelled all night; by daybreak Buckley was reporting from the region.
Buckley turned to his past reporting experiences to cover the disaster.
Buckley had his first job as a sports play-by-play announcer at a local radio station. Buckley said he learned as a play-by-play announcer what it means to bring to life the images the audience sees on TV. There was no makeup or time for a "take two," Buckley said.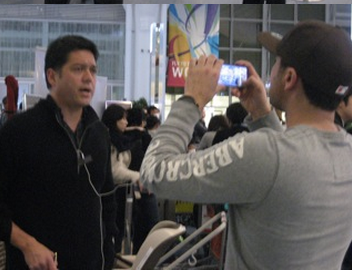 "You have to try and relate to listeners or viewers and describe images in a way that makes sense – what it feels like and smells like at that moment," he said.
But for someone who spent much of his career as a correspondent, he said he felt like he was in an arena he was comfortable with.
An order from CNN would pull Buckley and his team out of Japan three days after they had arrived. The presence of radiation was detected and there were serious concerns.
The plane they took was filled with many Japanese wives and children leaving their home country, but a sense of calm was evident, Buckley said. The decision to leave home behind everything spoke to the gravity of the situation developing on the island.
"We met this one Japanese man on the plane who knew almost no one in the US," Molle said.