Jackie Tiongson is a Southern California native who has spent the last 4 years on the East Coast. She is a senior Broadcast Journalism major at Emerson College, in Boston, and reflected on her AAJA-LA/KTLA internship experience: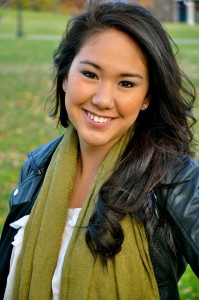 "As the AAJA-LA intern for KTLA, I had a wonderful experience this summer. I learned so many things applicable to the broadcast industry and about journalism as well.
AAJA-LA is devoted to helping their selected interns learn about the business of broadcast. For this, I cannot thank them enough! Along with my internship at KTLA, I was able to attend a Pre-Unity Mixer held at the Bronson Studios in Los Angeles. While there, we were able to network with industry professionals from AAJA, NAHJ/CCNMA, and NLGJA; all of who currently work in media related fields. I also learned more about the current AAJA members by writing blog posts promoting V3Con — AAJA's social media conference. It allowed me to see the difference the AAJA-LA community makes not only in Los Angeles, but also around the world.
At KTLA, I interned specifically in the web department with Tony Kurzweil. I had a lot of responsibilities as the intern such as: creating and sending the Daily Newsletter, uploading videos to the website, writing web stories, managing the KTLA Facebook and Twitter accounts, and monitoring comments and pictures uploaded by viewers.
The KTLA family is very kind, and open to welcoming new people. I felt very much a part of the news room even though I was only there for three months. I appreciated the web team's patience and willingness to teach me everything they could. Even though my internship was specifically in the web department, I appreciated how my internship was not only in that division. I was able to network and learn from other reporters, producers, writers, etc. My highlight of the internship was being allowed to interview on the red carpet of the 2012 Teen Choice Awards in the Gibson Amphitheater at Universal City Walk. I was able to experience what it is like first hand to report at a large entertainment venue.
My experience with KTLA is one that I will definitely never forget, and will take everything I learned into my future endeavors as a broadcast journalist."