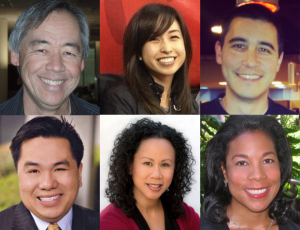 JULY 2012
By Anh Do 
Everyone needs access.
And if you're in the community, looking to get your news in the news across Southern California, one way to figure out how to do that is to talk to journalists. That's right, the folks covering stories or actually assigning stories can offer a bit of advice.
AAJA-LA connected members of the media to potential sources in the community in July at an event at the Asian Pacific American Legal Center.
We feature their faces above.
We include some of their useful tips below:
– Read the paper and pay special attention to stories that evoke emotions. Understand those responses and learn the elements that make a good story, which you can try to pitch.
      Yumiko Whitaker, founder of Hummingbird Public Relations
– Cultivate reporters. Call them and ask them to coffee to learn about their beats while sharing more about the work that your nonprofit or community organization handles. Try to understand what they look for when searching for a good story. Remember the importance of news deadlines. One of the most important things you can do to be helpful is to provide the right sources to reporters for interviews.
      Rachanee Srisavasdi, communications director, Asian Pacific American Legal Center
– You need humans to walk you through the experience. What this means is that to better illustrate an issue, reporters need to interview real people living in the drama or experiencing the problems. Find those sources so their voices can be heard.
      Joanna Lin, California Watch
– Remember that new media is NOW media. Get involved in it. Spread your news and information on those platforms every day, throughout the day. You need to be consistent in order to build a following and create interest. And in terms of getting coverage, think to yourself, who do you want to move that needle? Plan a strategy to go after that media or to connect with that key journalist.
      Ted Nguyen, spokesman, Orange County Transportation Authority; member, Orange County Public Relations Society of America
– Piggyback on someone else's story. Tell them, "Hey, I read your piece and I like it. Next time when you cover that issue or situation again,  please use me as a source." Get on journalists' contact list. Share your name and expertise. You can also be your own publisher. You could write the story yourself, then put it out there as a resource for different media who might notice it and contact you for more information to do their own story.
      Henry Fuhrmann, assistant managing editor, Los Angeles Times
—-
AAJA-LA will host its next Media Access training session in the summer of 2013. Become a member of our group or sign up for our e-newsletter and we'll send you details.