OCTOBER 2012
Imagine combining the competitive pressure of Jeopardy with a colorful Mardi Gras celebration and you end up with the AAJA-LA Chapter's Trivia Bowl, held on October 12, 2012, hosted by David Ono and ABC7.
In its seventeenth year, AAJA-LA's signature event is recognized as the "Granddaddy" of Chapter "fun-raising." This year's extremely successful event included over 40 teams filled with corporate, community and college guests vying for the championship with the highest score after five rounds of questions.
For the sixth time and third consecutive year, the Japanese American Bar Association won the prestigious, highly coveted Rice Cup trophy. Six teams, comprised of 80 percent students competed in the College Bowl and this year, UCLA's Daily Bruin team prevailed over their cross-town rivals to secure the Grasshopper Cup.
Trivia Bowl is known for its interactive and engaging participation, and at times, guests could not hear Emcee David Ono over the cheering and jeering. The electric energy in the room could be attributed to the inaugural "Spirit Award," given based on team uniform, positive interactive engaging sportsmanship and enthusiasm for the competition. IW Group, creatively dressed as socially impaired nerds, charged the stage to collect their "Spirit Award," a one-year supply of Nissin instant noodles.
A big part of Trivia Bowl's success is because of a dedicated group of volunteers and extremely generous corporate sponsorships including venue host, ABC7, dinner sponsor Wahoo's Fish Taco and appetizer donor, Panda Restaurant. Additionally, Coca-Cola offered a compliment of refreshments and Primo beer and Kigen sake donated alcohol. In addition to the sponsored competition, the event raised funds from raffle and live auction sales, and a tweet-off.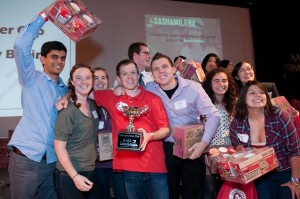 Regardless of final team standing, everyone leaves Trivia Bowl a winner for supporting our student scholarship, internship, fellowship and professional programs.