The face — and especially the voice — reminds us of his pioneering work as the first Asian American newscaster in Los Angeles.
Mario Machado, longtime news anchor for KCBS, has died, but the legacy captured through his decades of work garners praise for the man who also played a journalist in many film and television roles.
Here's a video tribute to Machado, 78, the winner of eight Emmy awards: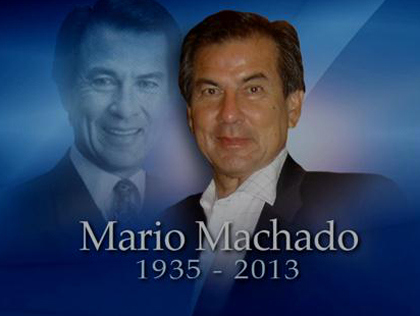 Machado won recognition on the AAJA Honor Roll of Asian American Pioneers in U.S. journalism, unveiled at the 2010 AAJA national convention in Los Angeles.
The Los Angeles chapter fondly remembers Machado as the original emcee for its annual Trivia Bowl competition. For humorous moments, he would break into Mandarin Chinese as he was announcing the questions.
Here's what leaders and fellow AAJA members say about Machado, born in Shanghai, of Chinese and Portuguese descent:
Mario was always proud of his heritage and background, and broke many stereotypes about Asian males. He was a very visible presence — a real role model — in Los Angeles television at a time when Asian Pacific Americans were a relatively rare commodity. His eight Emmys are a testament to his professionalism. We crossed paths frequently in the community, and he was particularly generous in sharing his time at many many Asian Pacific events in Southern California. For all he did for the profession and for Asian Pacifics, he will be missed.
— Frank Kwan, director of communications at the Los Angeles County Office of Education and co-founder of AAJA
Mario Machado set the standard for Asian Pacific Islander Americans entering television in the late 60s and early 70s. I regarded him as my mentor. The obits will mention his professional highlights as a broadcaster, actor and involvement in sports. I remember Mario as a popular emcee at the Lotus Festival in Echo Park and at many banquets of community organizations. He gave much of himself to our community. Rest in peace, dear friend.
— Sumi Sevilla Haru, co-founder of the Screen Actors Guild's ethnic employment opportunities committee and SAG national board member since 1974
While the Bay Area began to open the doors to Asian American broadcast journalists in the early 70s , Mario Machado was among the first pioneers years earlier in Los Angeles. Mario — with his distinctive voice and anchor desk looks — became an instant role model to many aspiring Asian American journalists. He had high visibility on two major L.A. TV stations, and his body of work earned him credibility, awards and the respect of his peers.  He was also committed to AAJA on the local and national level and its mission to diversify the nation's newsrooms. Mario helped AAJA-LA as moderator of the early Trivia Bowl competitions. He also attended and volunteered at AAJA national conventions. Most of all, Mario was very supportive of fellow Asian American journalists as they started out. He was as warm and sincere off-camera as he was on-camera.
— David Louie, reporter KGO-TV in San Francisco
Mario Machado was a class act. 
When I was co-chairing the first AAJA national convention in the late 1980s, we chatted about what a precedent this inaugural event would be. I didn't even have to ask. He offered to assist in any way we wanted. He offered his name recognition, his prestige, his time, anything.
What a generous and honorable man!  His contributions to journalism in general, and to Asian American journalists in particular, were immeasureable.
– David Kishiyama, co-founder of AAJA
Image courtesy: CBS Los Angeles