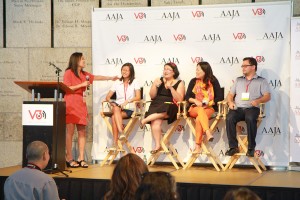 Our Call for Panelists is open to all!
We're looking for speakers to be a part of 2014's V3con (Vision. Visibility. Voice.), an ever-growing conference that teaches skills and evokes discussion around Asian American and Pacific Islanders in digital and social media, journalism, blogging and communications.
We're also looking for good ideas and inspiration for panels that we can build. If you've seen a great speaker this year, or you have a programming idea, but don't necessarily want to speak, we'll take your suggestions.
If you want to speak or lend us your ideas, please click here to fill out this year's Call for Panelists, or fill out the form below.
The deadline to submit is Friday, February 28, 2014.
Although we cannot provide honoraria for our speakers, selected panelists will receive complimentary registration to the conference.
See you at V3con 2014 on June 21st!