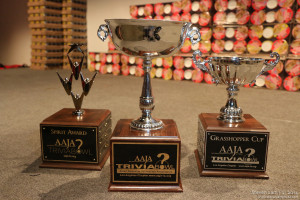 Trivia Bowl XIX ended the same way that six previous competitions did, with the formidable Japanese American Bar Association again winning the spirited team competition and taking home the Rice Cup.
The event, held Friday, Oct. 10, at the ABC7 studios in Glendale, also crowned Cerrell Associates as the winner of the third annual Spirit Award and the UCLA Daily Bruin as three-time winner of the Grasshopper Cup, recognizing the top finish among six college teams.
Trivia Bowl is the annual signature "fun-raising" event of the Los Angeles Chapter of the Asian American Journalists Association.
From its inception in 1994, Trivia Bowl has served as the chapter's principal fundraiser in support of its scholarship, internship, stipend and professional programs.
Sponsor and guest contributions helped this year's 19th installment set a record for highest gross receipts.
"My AAJA-LA colleagues and I appreciate that Trivia Bowl is the beneficiary of loyal sponsorships, fun and noteworthy donations, and the energy and excitement that everyone contributes to our trademark event," said longtime Commissioner Denise L. Poon.
Denise, who transformed the event from a small, informal competition in 2001 to its current format of more than 40 teams competing in ABC7's spacious Studio B, led the event for the 10th — and final — time as she plans to hand off to new leaders in 2015.
Throughout the night, we witnessed several traditional, recurring Trivia Bowl themes:
Teams representing print, broadcast and digital journalists competed alongside corporate, nonprofit community groups and student teams in the challenging 75-question quiz.
ABC7, represented by three enthusiastic teams and perennial event emcee David Ono, hosted the event in Studio B for the seventh time.
Wahoo's Fish Taco, led by Wing Lam, a longtime AAJA-LA benefactor, returned as the dinner hospitality host and one of our many generous sponsors.
And, not for the first time, a Los Angeles Times team found itself leading until the final round, only to finish a few points behind the now-seven-time champ JABA in the final standings.
For all that seemed familiar, there were just as many new elements that distinguished this Trivia Bowl from those that came before:
Social media played a bigger role than ever, with many participants taking part in the annual tweet-off contest (this year's prize: a Verizon Wireless personal drone accessory) and helping make #AAJATriviaBowl a trending topic nationally on Twitter.
Cerrell Associates broke IW Group's two-year winning streak for the Spirit Award.
New teams included Cal State L.A., a first-time entrant in the College Bowl, which this year was entirely underwritten by Wells Fargo.
Our sponsors included first-time contributors such as Hormel/Spam and the makers of Sriracha hot sauce, joining Coca-Cola, Kirin, Sugar Bowl Bakery, Nissin Cup Noodles and other longtime corporate supporters of our event.
The chapter is already planning for Trivia Bowl XX a year from now. That means participants will have an entire year to study and plot a way to supplant JABA in the quest for the Rice Cup. We in the chapter hope to you see you there.