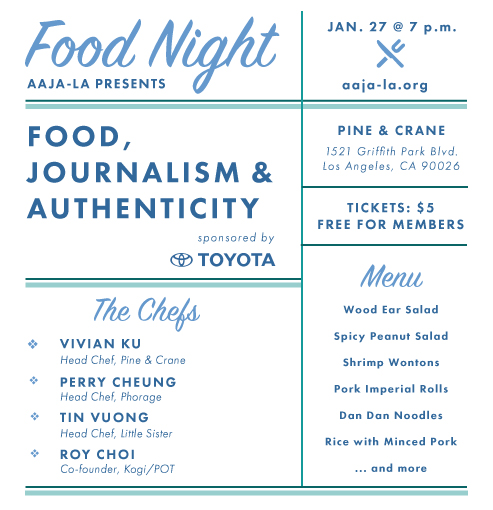 In a world where chefs are celebrities and people read about/photograph food almost as much as they eat it, food journalism is an expanding field. Come to Pine and Crane on Tuesday, Jan. 27, at 7:00 p.m. to hear chefs and journalists discuss good food and good journalism. The event, "Authenticity in food and journalism: Chefs in conversation with journalists," features: Vivian Ku (Pine and Crane), Perry Cheung (Phorage LA), Tin Vuong (Little Sister) and Roy Choi (Kogi/Pot) in conversation with Frank Shyong (Los Angeles Times).
How do chefs feel about what Yelp reviews, bloggers and food critics say? How does media attention, or the lack thereof, affect what a restaurant does? Are viral foods like the ramenburger and cronut good for the industry? Is an Asian chef expected to make Asian food? Also, free food for attendees.
Doors will open at 6:30 p.m. with food service at 7 p.m. The event is free for AAJA-LA members and $5 for non-members; seats are limited, sign up at Eventbrite.
Menu items:
Wood ear salad
Spicy peanut salad
Shrimp wontons with chili oil
Dan dan noodles
Rice with minced pork
Assorted beers and wines available at cash bar
Pine and Crane is located at 1521 Griffith Park Blvd., Los Angeles.
Follow the conversation on Twitter at @aajalafood, hope to see you there.