The Society of Professional Journalists, Los Angeles (SPJ-LA) presented the Distinguished Journalist Award in the television category to ABC7's David Ono on Thursday, April 14, at the Omni Hotel in Los Angeles.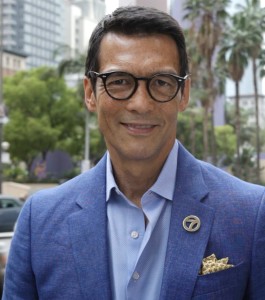 In introducing Ono, ABC7 president and general manager Cheryl Fair praised Ono on his reporting chops and turn at the anchor chair. Ono, a longtime AAJA-LA board member, spoke about his work at ABC7, where he currently serves as the anchor for ABC7 Eyewitness News at 4 p.m. and 6 p.m.  He joined the station in 1996 and has covered a multitude of news stories, including Hurricane Katrina, Haiti's earthquake and Japan's tsunami. He also mentioned his pride in working on "The Legacy of Hart Mountain," which chronicles the history of the former internment camp outside Cody, Wyoming. He thanked his partner and colleagues for their support and celebrated with them at the banquet.
Along with Ono, five other journalists were honored for their contributions to journalism. This year, the Distinguished Journalists honorees included Steve Loeper, West Coast entertainment editor at the Associated Press; Frank Suraci, city editor of the Daily Breeze; Frank Mottek, business news anchor at KNX; David Ono, co-anchor for ABC7 Eyewitness News; and Adrian Glick Kudler, senior editor of Curbed LA. Don Barrett, who founded and published LARadio.com, and longtime journalism instructor Kathleen Neumeyer were also recognized.
On behalf of the Asian American Journalists Association, Los Angeles, we congratulate David on receiving this distinguished award.
By Connie Ho