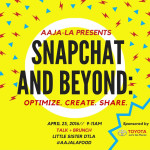 AAJA-LA has brought back its popular food panel with a 9 a.m. brunch event at Tin Vuong's Little Sister Downtown next Saturday, April 23. Attendees will be treated to the Vietnamese bistro's SGV-authentic dishes, which have been described by the Los Angeles Time's Jonathan Gold as "addictive" and "gonzo."
Yahoo's social media editor Angela Kim (@angelaishere), style blogger Francis Lola (@flamcis) and food instagrammer Michel Phiphak (@foodwithmichel) will share tips for keeping content fresh and relevant, lessons they learned along the way and their preferred social media tools. The talk will be moderated by AAJA-LA's own, Susan Hirasuna (@susanhirasuna).
Vuong's specially curated brunch menu includes Vietnamese ice coffee, congee, pan-seared taro cake and his famous SGV banh mi.
This event was made possible through the generous sponsorship of Toyota.
Event Details
Date: Saturday, April 23, 2016 from 9:00 AM to 11:00 AM (PDT)
Address: Little Sister DTLA, 523 W. 7th St., Los Angeles , CA 90014
Admission: Free for AAJA members, and $15 for non-members. Tickets can be purchased at Eventbrite.
You can follow the conversation on Twitter at #aajalafood. Hope to see you there!