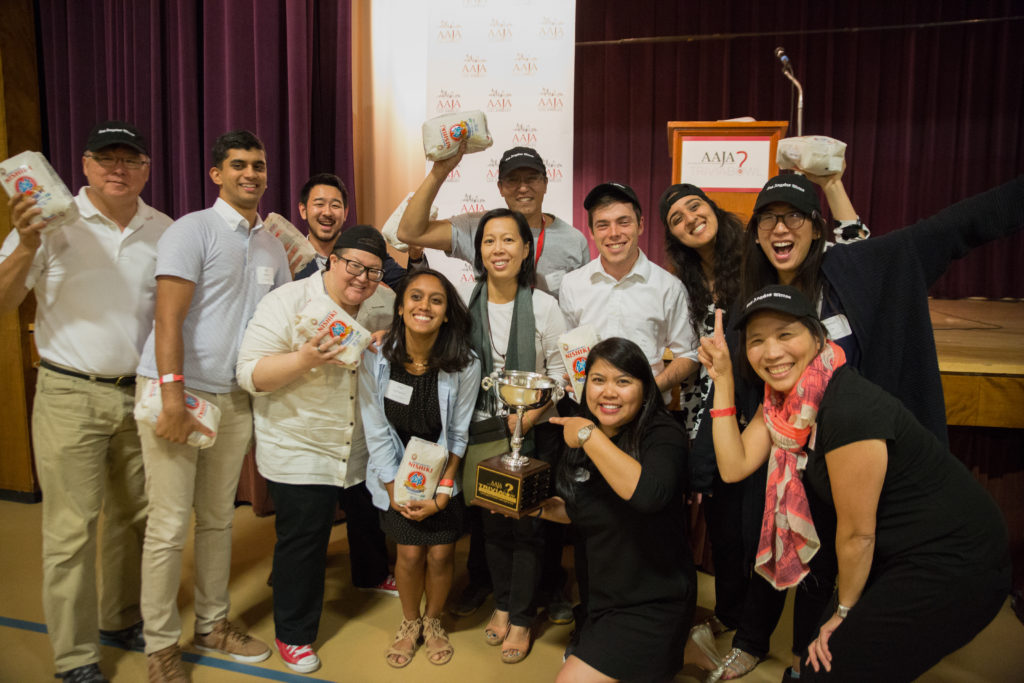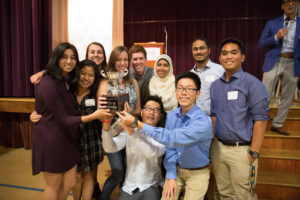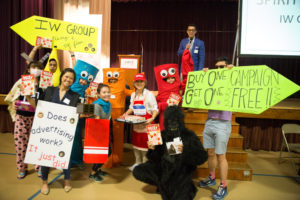 A new venue, a new night of the week and three familiar names in the winners' circle highlighted Trivia Bowl XXI, AAJA-Los Angeles' annual fundraiser, held Oct. 20 in downtown Los Angeles.
Los Angeles Times Team 2 won the competition with 39 points out of a possible 80, defeating 22 teams to secure the Rice Cup for the news organization for the second straight year. The Times group finished one point ahead of L.A. Times Team 1 and four ahead of KPCC 89.3 FM, the 2013 champion.
IW Group continued its lock on the Spirit Award, winning for the fourth time in the five years since the prize was instituted. UCLA took the Grasshopper Cup for the fourth year out of six, defeating defending champ USC and three other college teams.
The event, held on a Thursday evening (a first) at Nishi Hongwanji Buddhist Temple (also a first), marked Trivia Bowl's return to downtown. The temple is just a few blocks east of the Little Tokyo neighborhood where AAJA's six founders first met to establish the organization in 1981.
Panda Restaurants served as the dinner caterer for the second straight year, and perennial sponsor Coca-Cola provided beverages. Asahi provided beer.
Final Trivia Bowl XXI standings are posted below. A full list of questions and answers can be found here. Photos of the night are posted here.
| | | | | | | |
| --- | --- | --- | --- | --- | --- | --- |
| TEAM | Round 1 | Round 2 | Round 3 | Round 4 | Total | |
| | | | | | | |
| LA Times Team II | 10 | 9 | 12 | 8 | 39 | Rice Cup winner |
| LA Times Team I | 8 | 14 | 10 | 6 | 38 | |
| KPCC | 10 | 11 | 10 | 4 | 35 | |
| LA Times Alumni | 10 | 8 | 6 | 6 | 30 | |
| UCLA | 11 | 7 | 6 | 5 | 29 | Grasshopper Cup winner |
| CBS2/KCAL9 | 11 | 3 | 9 | 5 | 28 | |
| Nielsen | 11 | 5 | 7 | 5 | 28 | |
| Journalism Associations | 9 | 4 | 7 | 7 | 27 | |
| AAAJ | 6 | 6 | 8 | 5 | 25 | |
| Sun Group | 6 | 7 | 6 | 6 | 25 | |
| Friends of AAJA-LA Team I | 7 | 8 | 8 | 1 | 24 | |
| Marketplace | 7 | 2 | 9 | 6 | 24 | |
| ABC7 | 5 | 7 | 6 | 4 | 22 | |
| Bank of America | 8 | 4 | 3 | 6 | 21 | |
| Cal State Long Beach | 5 | 5 | 7 | 4 | 21 | |
| USC | 4 | 3 | 6 | 4 | 17 | |
| Cal State Fullerton | 5 | 4 | 5 | 2 | 16 | |
| Friends of AAJA-LA Team II | 3 | 5 | 4 | 3 | 15 | |
| IW Group | 4 | 1 | 6 | 4 | 15 | Spirit Award winner |
| Coca-Cola Team I | 4 | 2 | 4 | 4 | 14 | |
| Coca-Cola Team II | 5 | 2 | 4 | 2 | 13 | |
| Cal State LA | 3 | 2 | 5 | 3 | 13 | |
| KTLA5 | 2 | 1 | 7 | 2 | 12 | |