UPDATE (1/9/2017): The winner of the special election is Sophie Tran! Here is the full board for this year:
2017 President: Ashley Dunn
2017 VP of Programming: Thomas Lauder
2017 VP of Community Engagement: Annie Yu
2017 VP of Career Development: Cindy Chang
2017-2018 Treasurer: Melissa Leu
2016-2017 Secretary: Elizabeth Chou
2017-2018 Board Member: Mariko Lochridge
2016-2017 Board Member: Gita Amar
2016-2017 Board Member: Sophie Tran
2016-2017 National Board Representatives: Matt Stevens, Frank Shyong
[Appointed] 2017 Student Representatives: Nuran Alteir
— Elizabeth Chou, Board Secretary 2016-2017
—–
The special election for the vacant AAJA, Los Angeles chapter, board seat is set to run Jan. 3-6. Ballots will be sent via email to everyone registered as a full AAJA-LA member (full, gold, platinum) or student member.
IMPORTANT — AAJA memberships are set to expire Dec. 31, 2016, so voters will need to renew their memberships by logging in here.
If you are a full member or student member of AAJA-LA, but do not receive a ballot by Jan. 5, please write to aajalalosangeles+election@gmail.com immediately. Ballots for AAJA-LA elections will be due 11:59 p.m. Pacific time on Friday, Jan. 6, 2017.
As a reminder, the winner of the election will replace Melissa Leu, who was elected chapter treasurer, and complete the second year of a two-year term ending Dec. 31, 2017. The role of the board member is as follows:
BOARD MEMBER: A board member will be informed about AAJA's mission, services, policies, and programs; serve on committees or task forces and offer to take on special assignments. S/he will advocate for the chapter, help plan chapter events, help recruit members, and participate in fundraising activities. (All AAJA-LA board members are expected to take an active leadership role in the planning/execution of one or more large events.)
If you have any questions regarding your membership or the election, please email me at aajalalosangeles+election@gmail.com .
–AAJA-LA Election Commissioner
Elizabeth Chou, Secretary 2016-2017

Candidate for the AAJA-LA Board Vacancy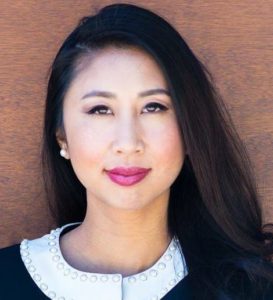 Candidate for Board Member (completing term ending Dec. 31, 2017): Sophie Tran Bio: Sophie Bao Tran works at Little Saigon Television Network as a producer and journalist. She serves on the board of directors for AAJA-LA . Recently she was recognized in OC Weekly's People of 2015 Issue as the "Queen of Little Saigon" for her work in media. Statement: As a current boardmember, I have been able to gain insight on how this organization operates in the past year. I believe with new positions open on the board, it is important to keep past members in order to consistently build on the work that was put out so far.