Putting education at the forefront of what we do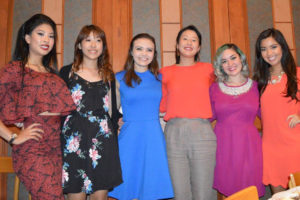 From its inception in 1981 as our organization's founding chapter, AAJA-LA has been committed to supporting the next generation of journalists. Through the years, the chapter has made the scholarship program the centerpiece of its fundraising efforts.
In the past, the chapter has awarded several scholarships of $2,500 each to full-time college students in the Greater Los Angeles Area to support their studies and career advancement.
The program also serves as a way to connect our past and future. In addition to several general awards, the chapter gives two scholarships in memory of early members of our chapter: the Sam Chu Lin Memorial Scholarship, given to a promising broadcast student, and the Peter Imamura Memorial Scholarship, with preference given to a student who is from the Inland Empire or who demonstrates special financial need.
Our 2017 programs
Students: Apply by April 16 for a $2,500 scholarship (plus, we'll send you to the convention in Philly).
Not a student? We're covering a limited number of free registrations and free rooms for AAJA-LA members to attend the national convention in Philly this year. Apply by April 2.
---
APPLY NOW
We believe in investing in your future. Apply now to be considered for one of the two scholarships. Who knows? It might be you!
RESOURCES
Winning this scholarship is more than just funds. You'll be awarded the opportunity to network with and possibly intern at some of the best media outlets this city has to offer.
TESTIMONIALS
Our scholarship program has helped many students over the years. Read on to find out their story and their experience.
---