The Media and the Japanese American Incarceration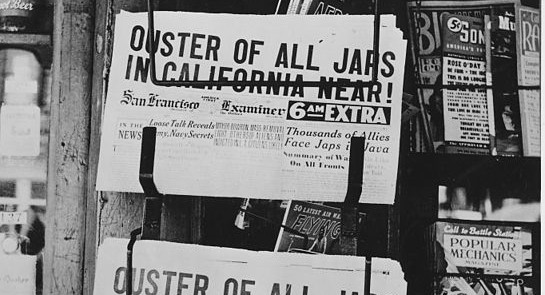 The Los Angeles Times was quick to raise the alarm: "The time has come to realize that the rigors of war demand proper detention of Japanese and their immediate removal," the paper wrote in January 1942. "It is not a pleasant task. But it must be done and done now."
Following the Japanese attack on Pearl Harbor, the media became an active supporter of incarcerating Japanese Americans in concentration camps. It was a time overwhelmed with fake news, extremism and race baiting – with the media at the heart of it.
Join us at 7 p.m., May 25, at the Tateuchi Democracy Forum as the Asian American Journalists Association, the Los Angeles Times, the Japanese American National Museum and Asian Americans Advancing Justice discuss the blunders of the media, the incarceration and the lessons they offer in the era of Trump.
How did the media become such a partisan in this episode of American history? Why did the media suspend its traditional defense of the underdog and the constitution? Why did it so wholeheartedly believe the flood of fake news?
Prof. Richard Reeves of USC and the Japanese American National Museum will present a snapshot of the fears after Pearl Harbor and the media's push to relocate Japanese Americans. Then, Prof. Reeves will join a roundtable discussion with Los Angeles Times publisher Davan Maharaj, Karin Wang from Asian Americans Advancing Justice and mystery writer and former Rafu Shimpo editor Naomi Hirahara.
ABC anchor David Ono will moderate the discussion on how the modern media has moved to correct the errors of the past and what it must do to combat the new wave of deceit and racism.
Refreshments will be served afterwards.
RSVP: https://9644p.blackbaudhosting.com/9644p/tickets?tab=2&txobjid=89ea44fb-31fb-43bb-8835-8548b3ae8b32
Hope to see you there.
AAJA-LA
The Japanese American National Museum
The Los Angeles Times
Asian Americans Advancing Justice