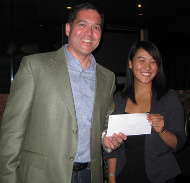 Did your financial aid package come up a little short? Need help with your college-related expenses right now? We're awarding as much as $7,000 in scholarships to full-time students attending colleges and universities in the Greater Los Angeles Area. Winners will be introduced and receive their awards at the annual AAJA-LA Trivia Bowl competition on Friday, Oct. 18.
Applications and work samples will be reviewed by a panel of judges led by Frank Buckley, co-anchor of the "KTLA 5 Morning News," and Henry Fuhrmann, assistant managing editor at the Los Angeles Times. Applications may be completed online at http://aaja-la.org/scholarship-application-form/; they must be received by midnight PDT Monday, Oct. 7.
Who is eligible?
Students who are committed to AAJA's mission and demonstrate a strong interest in pursuing journalism as a career.
Full-time students at Southern California-area colleges and universities (Los Angeles, Orange, San Bernardino, Riverside, Ventura and Imperial counties) taking journalism or related courses or pursuing a career in journalism.
Recipients must commit to volunteering at one AAJA-LA event in the coming academic year and writing one post for the AAJA-LA website. Membership in AAJA is encouraged for all applicants and required for those selected as scholarship recipients. For membership information, go to www.aaja.org.
You may direct questions to aajalaawards@gmail.com. Many thanks!