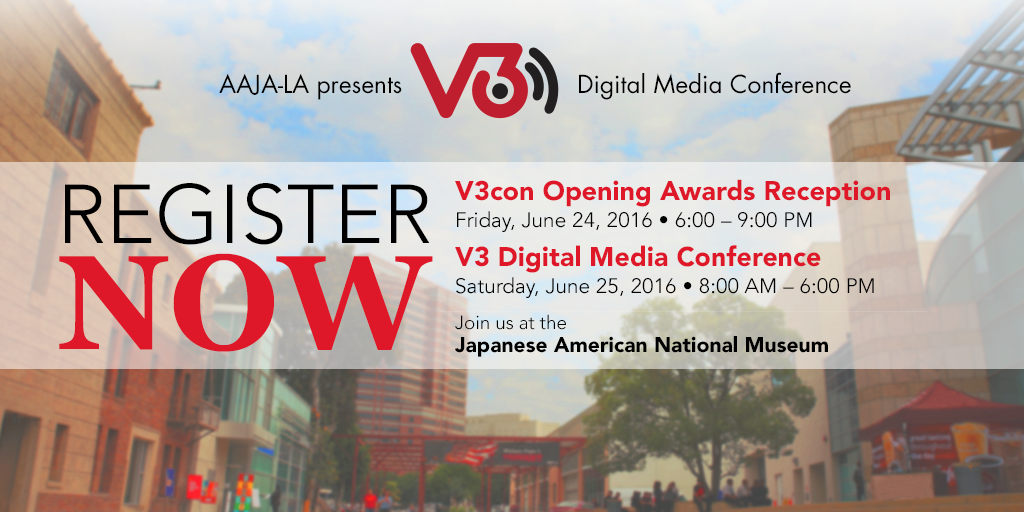 The fifth annual V3con Digital Media Conference will be held and presented by the Los Angeles Chapter of the Asian American Journalists Association (AAJA) on June 24-25 at the Japanese American National Museum in Downtown Los Angeles. V3con celebrates Asian American contributions to media, digital media and culture. The event, which recognizes the "Vision. Visibility. Voice." of Asian Americans and Pacific Islanders in the digital and social media fields, will bring together the biggest influencers and experts for a day of panel discussions and hands-on workshops in which attendees will build and learn about the latest new media skills.
V3con will be honoring three key individuals who have made a mark in both the digital and entertainment sectors. Director Jennifer Yuh Nelson ("Kung Fu Panda 3"), actor John Cho ("Star Trek") and blogger Phil Yu (founder and editor of Angry Asian Man) will all be honored by receiving the Vision, Visibility and Voice awards, respectively.
The gala awards reception will be held on Friday evening, June 24, sponsored by Comcast NBCUniversal and emceed by Cary Chow of ESPN with a few opening words from Traci Lee, Digital Managing Editor of NBC Asian America. Saturday, June 25, will be an all-day digital media conference of workshops and panels with notable guest speakers and entertainers from various industries such as NBCUniversal, CBS, NowThis, The Huffington Post, Yahoo, 89.3 KPCC, the Los Angeles Times and more. A wide variety of topics will be covered, including workplace diversity, virtual reality, making a career change from journalism and how media content is being shaped specifically for social media platforms will be covered.
In its fifth annual conference, AAJA and the organizers of the V3con continue to seek, highlight and recognize the many contributions and talents of the individuals breaking boundaries and stereotypes to bring a voice and face for Asian Americans and Pacific Islanders in the digital and media world. This year's three "V" award winners and honorees are exemplary path makers, paving the way for Asian Americans within their industry.
Past award recipients include journalists Ann Curry and Lisa Ling, actor Randall Park of ABC's Sitcom "Fresh Off the Boat" and Celebrity Chef Roy Choi.
Online registration is open through June 20 here.
Event Information
Opening Awards Reception
Friday, June 24, 6 to 9 p.m.
V3 Digital Media Conference
Saturday, June 25, 8 a.m. to 6 p.m.
Location:
Japanese American National Museum
100 N. Central Ave., Los Angeles, CA 90012
Monetary Sponsors: Comcast NBCUniversal, CBS Entertainment Diversity, Wells Fargo