OUR MISSION + HISTORY
The Asian American Journalists Association is a national nonprofit educational and professional organization that owes its founding in 1981 to the vision of a small group of Los Angeles journalists.
Today, AAJA's Los Angeles Chapter continues to promote the association's four-part mission:
To provide a means of association and support among Asian American and Pacific Islander journalists.
To provide encouragement, information, advice and scholarship assistance to Asian American and Pacific Islander students who aspire to professional journalism careers.
To provide to the Asian American and Pacific Islander community an awareness of news media and an understanding of how to gain fair access.
To research and point out when news media organizations stray from accuracy and fairness in the coverage of Asian Americans and Pacific Islanders.
AAJA-LA's 200-plus members work throughout the region in print, broadcast and online media.
The chapter offers scholarships for undergraduate and graduate college students; internship stipends for students, recent graduates and beginning journalists; and stipends/subsidies for mid-career journalists to attend professional development programs.
Several internships with local media outlets are offered. Past internships have been at the Los Angeles Daily News, Orange County Register, KABC 7, KNBC 4 and KTLA 5.
Among the stipends AAJA-LA offers are national conference, internships, technology and professional development.
Check the website regularly for scholarship, internship and fellowship information.
AAJA is a nonprofit organization with 501(c)(3) status.
AAJA HONOR ROLL LIST
Asian American Journalists Association Honor Roll
ASIAN AMERICAN PIONEERS IN JOURNALISM

REMEMBERING OUR ROOTS 
A pioneer is one who opens up an area or prepares a way.  A pioneer is somebody who does something for the first time or is one of the first to reach a goal, a territory, create a genre, who breaks through a barrier, blazes a trail, or helps open the doors for others to go through where no one of their kind has gone before.
The following Asian Pacific Americans listed here, whose heritage includes the continents of Asia, America and the islands of the Pacific Ocean, are pioneers in journalism.
They are first of their kind to practice journalism professionally for a U.S. news organization or create a journalistic vehicle using the English language in the so-called mainstream news media field, addressing ethnic communities or as a conscious counter or alternative to the mainstream.
The pioneers here are writers, reporters, photographers, photojournalists, filmmakers, motion picture and television camera people, film and video editors, radio-television community and public affairs producers or on-air hosts, editorial cartoonists, producers, directors, copy editors, make-up editors, assignment editors, columnists, war correspondents, foreign correspondents, senior editors, managing editors, executive editors, tape editors, press operators, broadcast engineers, network correspondents, on-air broadcast news anchors, news directors, publishers, media owners.
They are leaders in their field. They break through barriers of discrimination. They tell true stories about people and places. They strive to uphold the principles of truth, justice and freedom.
Additionally, the AAJA Honor Roll includes those who were outspoken advocates and active agents for change in the newsrooms and products of U.S. media organizations.
FOR THE FUTURE

AAJA's Honor Roll of Asian American Pioneers in Journalism is not definitive or complete. It is a living, working, breathing document.
The categories are Asian American Pioneers in U.S. Journalism (1925-1975); the Change Agents who fought for our rights to become working journalists in America; Pioneers in Asian Community Media, and Pioneers in Asian American Media.
We expect to know and hear of more pioneers as we continue to explore, discover and learn about our colleagues and the communities we share.
The AAJA Honor Roll represents what we know at this moment in time, with the understanding and expectation that there are more pioneers to be discovered and recognized, including those from earlier as well as later eras, that this list will grow and endure as more pioneers are found, as witnesses come forth or documentation is unearthed.
LEST WE FORGET

Lest we forget those who came before us, let us now recognize, praise, honor and cherish these Asian American pioneers in journalism, sung and unsung, for their courage, vision and wisdom.
– Written by Christopher Chow. Reprinted from AAJA's 2010 Convention Book.
The ASIAN AMERICAN PIONEERS PROJECT is researched, edited and compiled
by Christopher Chow and Suzanne Joe Kai.
Editors' Note: We regret any errors or omissions contained herein. Corrections and additions will be made with subsequent updates or editions online and in print. This ongoing project will be housed at www.AAJA.org. Please submit candidates to Annabelle Udo-O'Malley c/o EVENTS@AAJA.org
SEE OUR FULL LIST OF FOUNDING MEMBERS …. LINK TO PAGE FROM HERE
PIONEER PHOTO: From the frontiers of Asian American journalism history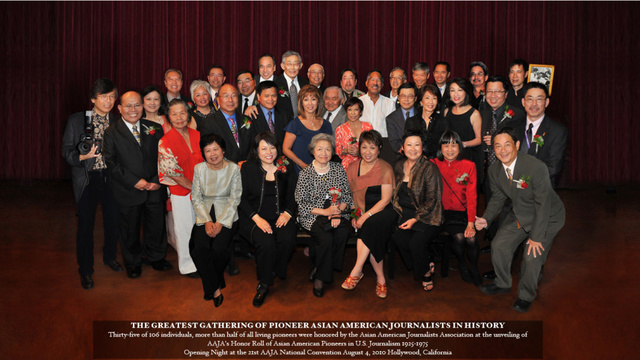 2010 was a banner year for AAJA-LA as host chapter of the 29th annual AAJA Convention in Hollywood.  The 2010 convention, widely viewed as one of the best in AAJA's history, honored for the first time in its 29 years, its Asian and Asian American Founders and Pioneers in U.S. journalism as a group.  The event turned out to be the largest gathering of Asian American pioneers in U.S. journalism.
To see more photos from the convention, click here to view the gallery.
Opening Night at the 21st AAJA National Convention August 4, 2010, Hollywood, California
(Top L to R) Judy Chu Lin rep. late husband Sam Chu Lin, Jack Ong, Felicia Lowe, Stewart Kwoh rep. late mother Beulah Quo, Don Nakanishi, Bruce Koon, Kyung Won Lee, Al Young, Curtiss Kim, Lloyd LaCuesta, Henry Moritsugu, David Kishiyama, Ti-Hua Chang rep. late father Jen-Chung Chang, H. Lorren Au, Jr. rep. late father Henry Lorren Au, Russell Leong rep. late father Charles Leong; (Middle L to R) Corky Lee, Christopher Chow, Tomi Kaizawa Knaefler, Paul Sakuma, Emil Guillermo, Linda Yu, Harry Honda,
Sumi Sevilla Haru, Frank Kwan, Jan Yanehiro, Connie Chung, Ben Fong-Torres, Jon Funabiki
(Bottom L to R) Loan Do rep. late husband Yen Ngoc Do, Suzanne Joe Kai, Dorothy Ing Russell, Serena Chen, Rosy Chu, Gimmy Park Li, Bill Sing
AAJA HONOR ROLL names and categories can be seen here: Pioneers in U.S. Journalism, Change Agents, Pioneers in Asian Community Press, and Pioneers in Asian American media.
FOR MORE CONVENTION COVERAGE:
AAJA 2010 OPENING RECEPTION PHOTO GALLERY, click here
CREDITS: Individuals and organizations that assisted in the production of the Opening Reception can be seen here
PIONEER LIST: To see a complete list of the Pioneers on the AAJA Honor Roll list, click here
PIONEER GROUP PHOTO:  To see an enlarged version of the photo including all 36 Pioneers, click here.
Q&A: Five minutes with National Convention co-chair Leezel Tanglao
TWITTER: The AAJA National Convention in 140 characters
SLIDESHOW: Time machine back to the AAJA National Convention with "Joz"