Four Los Angeles-area college students received scholarship checks ranging from $1,000 to $2,500 to assist them in their pursuit of a career in journalism during a banquet hosted by the Los Angeles Chapter of AAJA on January 21.
UCLA Daily Bruin editors Samantha Masunga (Peter Imamura Memorial Scholarship, $1,500) and Sonali Kohli ($1,500) and USC Trojans Natasha Zouves (Sam Chu Lin Memorial Scholarship, $2,500) and second-time AAJA-LA scholarship recipient Steffi Lau ($1,000) were selected as 2010-2011 AAJA-LA scholarship winners.
The Chapter scholarship winners are selected on the basis of academic achievement, demonstrated journalistic ability, financial need commitment to the field of journalism and/or sensitivity to Asian American and Pacific Islander issues.
"I have no doubt that each one of our scholarship recipients this year is going to achieve success and contribute in a positive way to our profession," said Frank Buckley (anchor, KTLA Morning News), scholarship committee co-chair.
The Los Angeles Chapter of the Asian American Journalists Association awards up to $10,000 in scholarships each year to deserving students who reside in Southern California or attend universities in the greater Los Angeles area.
Prior to this year, students from University of Southern California, UCLA, Chapman University, Los Angeles City College, UC Irvine and Cal State Northridge received scholarships ranging from $500 to $2,500.
"I hope our members will do everything they can to mentor and encourage these students as they continue their educations and begin their careers," said Buckley, a former AAJA-LA scholarship winner.
The Scholarship Committee included co-chairs Buckley and Henry Fuhrmann (assistant managing editor, LA Times). Judges Bob Bayer (former LA Times editor) and Traci Tamura (senior producer, CNN) also served on the committee.
If you're interested in learning more about the AAJA-LA scholarship process, please e-mail aajalalosangeles@gmail.com.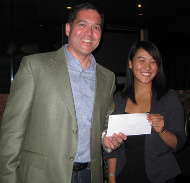 STEFFI LAU is a senior at USC who is double majoring in East Asian Languages and Cultures & Public Relations with a minor in marketing

"Despite the fact Steffi had not worked in broadcast journalism before, she was able to rapidly transition, producing engaging, concise, well written scripts just as good as those written by our full time reporters," — Alistair Shewring, supervisor/ Blue Ocean Network ( Beijing)

"Steffi will grow to be a stellar journalist in the years ahead" — Lisa Wong Macabasco, managing editor/ Hyphen Magazine
Lau carries a 3.7 GPA. She speaks Mandarin.
Lau is deputy editor of US-CHINA Today from the US CHINA institute.
In 2008, Lau worked for Asian Week in San Francisco where she was an intern who so impressed her bosses that they made her managing editor of a magazine supplement on the Beijing Olympics.
Last summer, Lau spent the summer in Beijing—not to write for a newspaper. She was a reporter for the Blue Ocean Network which provides TV content to the west about China.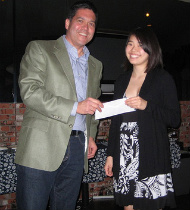 SAMANTHA MASUNAGA is a junior at UCLA majoring in English


"Sam's performance was truly exceptional, indeed at the very top of the class." — Jonathan F.S. Post, professor of English, head of UCLA's Summer Overseas Shakespeare Program.

"Tenacious, thorough and a highly skilled writer." — Gwen Muranaka, English editor in chief/ Rafu Shimpo
Masunaga has a GPA of 3.859.
She's the Science and Health Editor at The Daily Bruin.
She has interned at The Rafu Shimpo.
In Masunaga's essay, she talked about the impact of working at the Rafu on her feelings about ethnicity, saying: "I have learned that cultural knowledge is more than just eating traditional foods and writing kanji."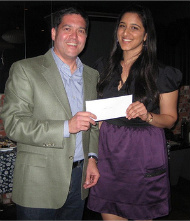 SONALI KOHLI is a sophomore at UCLA with a 3.67 GPA
Sonali is "a serious and qualified candidate worthy of one of AAJA-LA's scholarship." — Bryan Chu, NBA.com
Kohli is the Westwood Crime Editor for the Daily Bruin
She has interned at the Orange County Register
Sonali submitted a beautifully written essay about traveling to New Delhi as a 13 year old Indian American and how that helped to shape her as a journalist today.
Her letters of recommendation paint a picture of a pro-active, hard-working, relationship-building bright young reporter.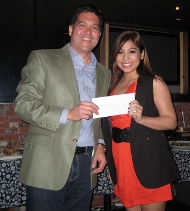 NATASHA ZOUVES is a junior at USC double majoring in broadcast journalism and health promotion
"It is seldom that an instructor at our school has someone in class as energetic, gifted and personable as Ms Zouves." — Larry Pryor, USC associate professor
Zouves has a 3.8 GPA
She has worked at local stations KCBS as a field producer and at KNBC as an associate producer for News Raw.
In 2009, she presented a research paper "What Are You? The Mixed Race Experience of Young Adults" at Santa Clara University at the 36th annual western undergraduate research conference.
Natasha writes in her essay about how the words written on the chalkboard on the first day of her high school journalism class remain with her today.
Natasha's brother has autism and the words on the chalkboard read: "Journalism gives voice to the voiceless." As Natasha said in her essay: "These words spoke to me on such a deep level and have stayed with me ever since, affecting every piece of journalism I write or shoot."