Seasons greetings from AAJA-Los Angeles!
We cordially invite AAJA-LA members to join us for holiday cheer, food and drink as we look back on a terrific year in 2012 and ahead to what is already shaping up to be a busy 2013.
We will gather once again at the beautiful home of AAJA-LA Vice President David Ono. This will be a wonderful opportunity to meet and mingle with members of the chapter, including the incoming 2013 Board of Directors, as well as with leaders from our industry and the wider community.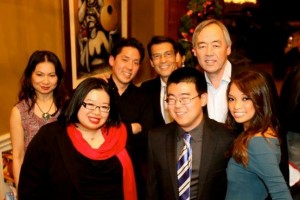 Please bring an unwrapped gift to contribute to the Spark of Love Toy Drive, which is celebrating 20 years of giving. Thanks to your generosity, we will be able to continue our annual party tradition of contributing hundreds of toys to families in need.
Current members of AAJA-LA should have received their official invitations (with the date and time of our holiday party) electronically this morning at 9:30am via SurveyMonkey. If you are a current member of AAJA-LA but did not receive your invitation, please check your spambox or write aajalalosangeles@gmail.com immediately.
Please RSVP by 12/5, and you will be sent further information, including the address.
Cheers!
-AAJA-LA Board of Directors